Custom Christmas Ornaments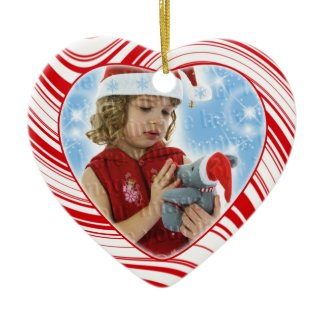 It's not rocket science to create products on Zazzle, but there are some tricks to getting a concept to turn out the way you'd like – or better! Want to see how to create your own Christmas ornament online AND customize exactly how you want?
Got 5 minutes? Create your own Christmas ornament online!
Watch the quick video below to see how! You can add your photograph and customize the text on the back of this ornament in under 5 minutes! Printing will usually begin within 24 hours and your one-of-a-kind gifts (unless you make several!) will be on their way soon after.
The custom holiday ornament shown, Red & White Candy Cane Custom Christmas Ornament, is a customer favorite on my Beachwalker store and won a Today's Best Award when it was introduced. The trick with ornaments that have a hole for a string or ribbon is making sure you don't cut out anyone's face!
How to customize a Christmas ornament on Zazzle.com in under five minutes!
Below are photo links to more custom ornaments on the Beachwalker store.